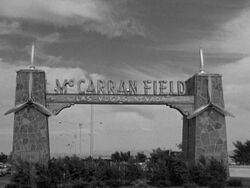 McCarran Field was the airport in Las Vegas, Nevada.
It was here that Lt. Tragg took Peter Cole into custody for suspicion of the murder of Phillip Kendall ("The Case of the Sleepwalker's Niece").
Ad blocker interference detected!
Wikia is a free-to-use site that makes money from advertising. We have a modified experience for viewers using ad blockers

Wikia is not accessible if you've made further modifications. Remove the custom ad blocker rule(s) and the page will load as expected.